Venue & Hospitality
Welcome to the Official Attendee Housing Site for the Retroviruses 2017 which will be held in the beautiful and exciting city of Vancouver, Canada. The conference will take place in the following dates and locations.

Conference Venue: Executive Airport Plaza Hotel & Conference Centre
7311 Westminster Highway, Richmond, BC V6X 1A3

Book your accommodation through Retroviruses 2017and get competitive prices than the hotel fees along with the following Amenities:
- LOCATION: 5 MINUTE DRIVE TO VANCOUVER INTL AIRPORT AND CANADA LINE SKYTRAIN.
- LOCATION: 5 MINUTE WALK TO BUSINESS DISTRICT AND RICHMOND SHOPPING MALL.
- LOCATION: 15 MINUTE DRIVE TO DOWNTOWN VANCOUVER ENTERTAINMENT & BUSINESS.
- Complimentary Airport Shuttle To and From Airport
- Fitness Centre, Indoor Heated Pool, Hot Tub, and Rooftop Jogging Trail
- Overnight free parking
- Full buffet breakfast

Hotel Address: Executive Airport Plaza Hotel & Conference Centre
7311 Westminster Highway
Richmond, BC V6X 1A3
Tel: (604) 207-7165

Contact: Ivy Chan | Sales & Administrative Assistant
Phone –Email - [email protected]
Conference Dates: July 27-28, 2017
Hotel Services & Amenities
Audio/Visual Equipment Rental.
Business Center.
Business Phone Service.
Complimentary Printing Service.
Express Mail.
Fax.
Meeting Rooms.
Office Rental.
Photo Copying Service.
Secretarial Service.
Telex.
Typewriter.
Video Conference.
Video Messaging.
Video Phone.
ATM.
Baggage Storage.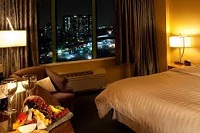 Transportation
Airport Terminal Svc
3211 Grant St, Vancouver, BC V5K 3J1, Canada
Take Windermere St to Rupert St
2 min (500 m)
Continue on Rupert St. Take E 54th Ave and Knight St to Westminster Hwy in Richmond
30 min (18.6 km)
Executive Airport Plaza Hotel Richmond
7311 Westminster Hwy, Richmond, BC V6X 1A3, Canada
About City
Vancouver
Vancouver is a coastal city and major seaport on the mainland of south-western British Columbia, Canada. The city, with a population of over 570,000, is the largest city in British Columbia. Metro Vancouver has a population of over 2 million people making it the third largest metropolitan area in Canada. Vancouver was founded in 1886, and is named after British naval captain George Vancouver. Captain Vancouver explored the area around Vancouver and Vancouver Island in the 1790s. Vancouver has a mix of people from different cultures. Vancouver people were part of three main groups: the Squamish, Musqueam, and Tsleil-Waututh. Vancouver is one of Canada's warmest cities in the winter. Vancouver's climate is temperate by Canadian standards and is usually classified as oceanic or marine west coast.
Vancouver is the most densely populated city in Canada. Urban planning in Vancouver is characterized by high-rise residential and mixed-use development in urban centres, as an alternative to sprawl. Vancouver has been ranked one of the most liveable cities in the world for more than a decade. Vancouver has been ranked as having the 4th highest quality of living of any city on Earth.
The Vancouver School Board enrols more than 110,000 students in its elementary, secondary, and post-secondary institutions, making it the second-largest school district in the province. The district administers about 74 elementary schools, 17 elementary annexes, 18 secondary schools, 7 adult education centres, 2 Vancouver Learn Network schools, which include 18 French immersion, a Mandarin bilingual, a fine arts, gifted, and Montessori schools and there are five public universities in the Greater Vancouver area. Prominent theatre companies in Vancouver include the Arts Club Theatre Company on Granville Island, and Bard on the Beach.
Libraries in Vancouver include the Vancouver Public Library with its main branch at Library Square, designed by Moshe Sadie and The Vancouver Art Gallery has a permanent collection of nearly 10,000 items and is the home of a significant number of works by Emily. The Vancouver School of conceptual photography as a term applied to a grouping of artists from Vancouver who achieved international recognition. Musical contributions from Vancouver include performers of classical, folk and popular music. The city of Vancouver has taken a number of steps to become a sustainable city.